Thriver Walk Event - SARCC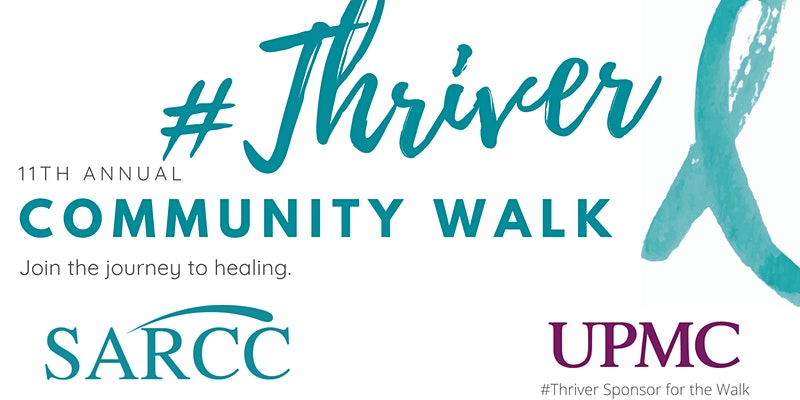 Thriver Walk Event
"A revolution always begins from within. This one begins when you decide how you will hold the issues of sexual assault, domestic violence a
About this Event
"A revolution always begins from within. This one begins when you decide how you will hold the issues of sexual assault, domestic violence and child abuse within you, and how you live out that decision."
~Mariska Hargitay
Sexual violence is a common and widespread issue that impacts our community every day. In any given classroom of 25 children, five of them will experience sexual victimization before they turn 18 based on national victimization rates. This is an issue that impacts people of all ages, genders, and neighborhoods. There are over 23 million survivors of sexual assault in the United States, and it is time to say "NO MORE" to this crime in our community.
This year, we're taking the event from surviving to thriving – the 10th Annual #Thriver Walk. The event will take place on Saturday June 6, 2020 at the Fairlane Park in Myerstown, joining our event with Better Together's SummerFest. Your registration will allow you to attend activities at both events, and join the rest of the day-long festivities.
Join us in making real and lasting change in our community. Promote better health, greater opportunities for healing, and resilient futures for every survivor.
We are inviting individuals, families, and teams to participate in the walk, and join us in making an impact in our community. You may conduct your own team fundraising for a chance to win t-shirts and other cool prizes!
Click here to learn more and register.
#ThriverWalk Virtual Fundraising Toolkit
HOW IT WORKS
1. Create a fundraiser: All the tools and tips you'll need are outlined below. (Remember: Facebook does not charge fees on fundraisers for nonprofits. That means 100% of the funds you raise go straight to SARCC)
2. Share with friends: Connect your friends and family to SARCC, gain supporters across Facebook, and watch your impact grow.
3. Get donations: People can donate to your Fundraiser in just a few clicks, without ever leaving Facebook.
HOW TO CREATE YOUR FUNDRAISER in less than three minutes: Download the Toolkit instructions.
Event Details
Date: June 5, 2021
Time:

8:30 am - 10:30 am

Event Category: Our Events